Desert Rose-Pinecrest "Suzy Q"
OFA GS-54031G25F-T EL9122-T
Back To List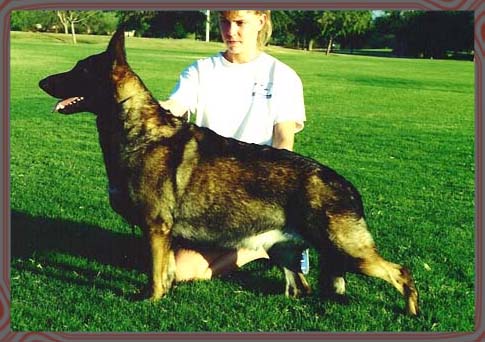 Suzy is a very dark sable female with an excellent coat. She is standard in size, short coupled with an iron back, good bone, and balanced movement. She has full dentition, a correct scissors bite, excellent pigment, dark eyes, and carries the black factor. Suzy is very intelligent, has those "talking eyes" and surely understands everything that is said. She is totally devoted to and protective of her home and family. She is fearless and loves to go on outings. Her character, intelligence, health and hip pedigree is a positive for the breed.

Sire
Jericho's Nieman-Marcus CD
OFA GS-40897E24M EL 4246

Sire
Ch Jericho's Tioga Of Castlehill
OFA GS-32107G24M

Sire
Von Ivo's Tru Spirit Of Jericho
OFA GS-17993

Dam
Ch Randheim's Waikiki
OFA GS-26745F73F EL359

Dam
Windyridge's Chelsea
OFA GS-32073E40F EL 1583

Sire
Ch El Sid Of Windyridge

Dam
Windyridges Terry's Share


Dam
Quinta Of Desert Rose CGC
OFA GS-33207G26F EL 2671

Sire
Judeen's Kai of Desert Rose CD TC
OFA GS-27504G24M-T EL531-T

Sire
Ch Caralon's Trefferhund Judeen CD
OFA GS-15018-T

Dam
Kricket Of Sugar Creek
OFA GS-25232G80F

Dam
Pincrest' Dominique
X-rayed norm. @ 12 mo

Sire
Orcland's El Tesoro Del Sol
X-rayed N (Phantom son)

Dam
Lady Charice
OFA GS-14403-T (Sundance Kid sis)