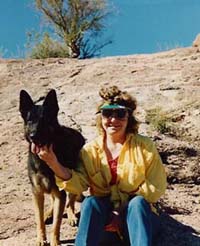 Like so many others, my first German shepherd was a pet quality dog with a brilliant mind and a totally confident temperament. I became so intrigued with the trainability of my dog that I went searching for a trainer to train me! The trainer that I found turned out to be a wonderful, responsible German shepherd breeder in our hometown of Indiana. He and his wife soon became my very good friends and my mentors. They introduced me to many of their Shepherd friends who were also very knowledgeable, some of whom are still breeding and exhibiting. I am so grateful that all these dedicated people shared their knowledge with me. I purchased my first show bitch in 1969, a beautiful, very sound, Wilva Don's Faust granddaughter, and I was hooked!
My husband, son, and I moved to Arizona in 1972, bringing our dogs with us. We have all enjoyed the dogs as pets aside from my involvement as a breeder. We have taken them with us on outings to many parts of Arizona. Frequently they went with us when we took our horses on trail rides. Our son grew up with German shepherd dogs and now our grandchildren can know this wonderful breed when they come to visit.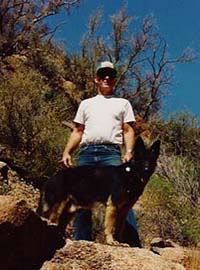 I am a small breeder who loves the breed and promotes the GSDCA standard. I guarantee my puppies and encourage their new owners to keep in touch with me. I am a member of the German Shepherd Dog Club of America and a signer of the breeders' code. I am a member of the Grand Canyon German Shepherd Dog Club and an OFA advocate.
Anita Rose