Desert Rose' Morning Mist "Misty"
OFA GS-60815E25F-PI EL12145-PI Th000977/25F-PI
Back To List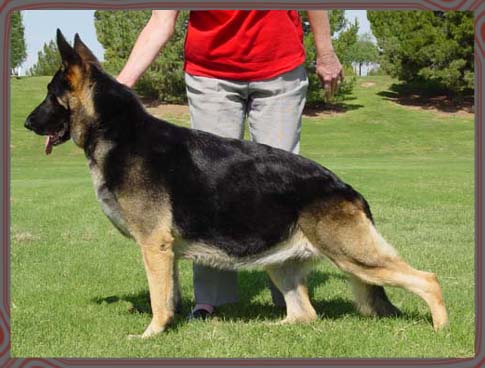 Misty is a large, intelligent, strong-willed, very athletic, black and tan female with a wonderful sense of humor. She loves to go hiking and is completely devoted to and protective of her family. She has full dentition, a correct scissors bite, rich pigment, dark eyes and carries the black factor. She is short coupled and has an iron back. Her OFA pedigree combined with her other qualities give her a lot to offer the breed for working ability and beauty.

Sire
Judeen's Phoenix v Desert Rose
OFA GS-34254G24M

Sire
Judeen's Kai of Desert Rose CD, TC
OFA GS-27504G24M-T EL531-T

Sire
Am/Can Ch. Caralon's Trefferhund Judeen ROM pts CD
OFA GS-15018-T

Dam
Kricket of Sugar Creek
OFA GS-25232G80F

Dam
Judeen's First Lady v Caralon
OFA GS-26012F39F

Sire
Ch. Caralon's Triumphant Tony
OFA GS-11586

Dam
Ter-Cy's Jasmine CD SchH I
OFA GS-9613


Dam
Desert Rose-Pinecrest Suzy Q
OFA GS-54031G25F-T EL 9122-T

Sire
Jericho's Nieman-Marcus CD
OFA GS-40897E24M EL 4246

Sire
Ch. Jericho's Tioga Of Castlehill
OFA GS-32107G24

Dam
Windyridge's Chelsea
OFA GS-32073E40F EL 1583

Dam
Quinta Of Desert Rose CGC
OFA GS-33207G26F EL 2671

Sire
Judeen's Kai of Desert Rose CD TC
OFA GS-27504G24M-T EL531-T

Dam
Pincrest' Dominique
X-rayed norm. @ 12 mo.