Desert Rose' American Liberty "Liberty"
OFA GS-69492G25F-PI EL16549F25-PI
Back To List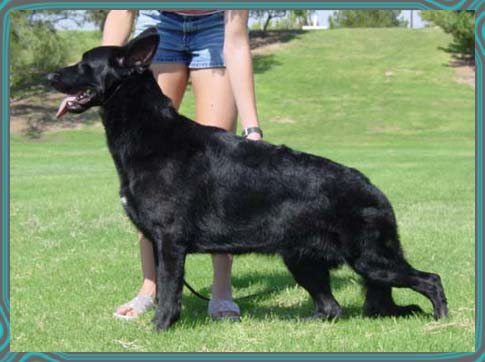 Liberty is a pretty, solid black female of medium size with good shoulder and rear angulation and topline. She has full dentition, and a correct scissors bite. Her confident temperament, personality and intelligence makes her a joy to live with. She will soon be at the shows with her friend Corinne, expertly handling her.

Sire
Can. GV, 2X U.S. Sel. Ch. Rallyn's Jaego
CD,TC,TT,HIC,CGC,TDI
OFA GS-41918G25M

Sire
Sel. Am/Can Ch. Woodhaven's In Search Of TC ROM

Sire
Woodhaven's Ashley

Dam
Kolbrook's Leah Of Woodhaven

Dam
Ch. Whitfield/Rallyn's Aura TC
OFA GS-27340G32F

Sire
Am/Can. Sel. Ch. Waltraut's That's Black Jack ROM
OFA GS-18612612

Dam
Rallyn's Gypsey TC
OFA GS-22237F25F


Dam
Desert Rose' Morning Mist
OFA GS-60815E25F-PI EL 12145-PI Th000977/25F-PI

Sire
Judeen's Phoenix v Desert Rose
OFA GS-34254G24M

Sire
Judeen's Kai of Desert Rose CD TC
OFA GS-27504G24M-T EL531-T

Dam
Judeen's First Lady v Caralon
OFA GS-26012F39F

Dam
Desert Rose-Pinecrest Suzy Q
OFA GS-54031G25F-T EL 9122-T

Sire
Jericho's Nieman-Marcus CD
OFA GS-40897E24M EL 4246

Dam
Quinta Of Desert Rose CGC
OFA GS-33207G26F EL 2671